Meet the Motorola CP150 Radio
Radio technology has been developing at a great rate, and with each passing day new radios are flooding the market. In the past, radios were used exclusively for wars; however, nowadays they are used in different domains ranging from law enforcement, to construction and security industry.
With so many radios in the market, it is hard to choose the one that fits your needs. Motorola CP150 is an amazing two-way radio, which is quite versatile and fulfills the requirements of most users from different streams.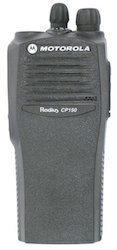 Motorola CP150 is a high quality analogue two-way radio that has a rugged design and a durable die-cast chassis.
It comes with features like selective call and call alert, and has a large textured Push-to-Talk Button for the convenience of the user. With a bright tricolor status LED, it tells you the status of the device at all times. It has 16 channels and uses CTCSS, DCS signaling type.
The radio works on UHF and VHF bands, and provides error free communication to the users. Besides its utilization in security and law enforcement activities, it has found great use in fields like hotel, construction, and medical industry.
1. Motorola CP150 Radio Batteries
The radio uses high capacity Lithium-Ion battery. Batteries like High Capacity Lithium-Ion (Li-Ion), 2250 MAH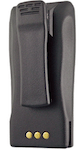 (Nntn4497) are lightweight and slim, which makes them perfect for use with Motorola CP150 Radio. IP54 rated batteries are ideal for Motorola CP150 Radio. Below is a list of some other batteries that can work well with this radio:
a) High Capacity Lithium-ion (Li-ion), 2800 mAh (PMNN4450AR)
b) Mag One Li-Ion 2075 mAh Battery (PMNN4458)
c) Nickel Metal Hydride (NiMh) Battery, 1480 mAh (NNTN4851)
2. Motorola CP150 Radio Speaker Mic
Radio speaker mic can make the task of speaking into the radio easy. When you are using an audio accessory like a mic, you do not have to worry about speaking directly into the two-way radio for to be heard. A mic like Remote Speaker Microphone with 3.5mm Audio Jack fits the bill perfectly when it comes to Motorola CP150 Radio.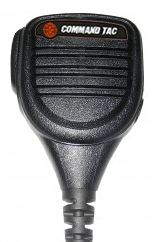 It comes with a 6-foot coiled cord assembly; quick disconnect plug, and a swivel clip. It also has a wind-porting feature, which reduces the background noise from noisy winds, thunder, and other hazardous weather conditions. Some other microphones that work well with CP150 Radio are listed below:
a) Lightweight Mic (PMMN4008): It is a lightweight mic that does not burden you with its weight.
b) Remote Speaker Microphone (PMMN4013): Comes with features like Windporting and a 3.5 mm audio jack
3. Motorola CP150 Radio Surveillance Equipment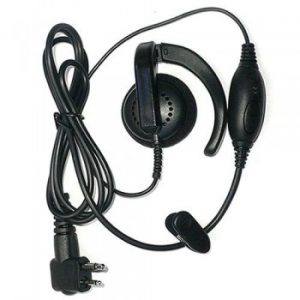 For covert ops, the Clear Acoustical Earpiece with PTT Mic is the perfect surveillance equipment. The acoustical earpiece assembly ensures that you are able to hear every sound, no matter how low it is, quite easily and without stressing yourself. It is quite small and lightweight, which allows an agent to carry this earpiece discreetly.
4. Motorola CP150 Radio Carry Solutions
It is the responsibility of every radio user to take proper care of his device. A carry case is needed to ensure safety and security of your most prized possession on the field, especially in unfriendly conditions. Accessories like the 2-Inch Belt Clip (RLN5644) comes with rugged spring-action belt clip, which allows you to instantly access your radio.
If you are using accessories like a mic and speaker, you do not need to remove your radio from your belt or out of a holster to communicate with your team. Below is a list of some other useful carry solutions for your analogue radio:
a) 3-inch Belt Clip (HLN8255)


b) Nylon Holster (HLN9701)
c) Belt Clip (RLN5644)
d) Universal Chest Pack (HLN6602)
5. Motorola CP150 Radio Chargers
The chargers for this radio are available as single unit and multi-unit chargers. PMLN6588 is a multi-unit charger for Motorola CP150 Radio that can charge a mixed fleet of radios at the same time with CP and PR Series charging inserts. As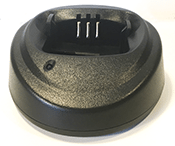 a single unit charger, WPLN4138 Desktop Charger is perfect for this radio model.
It can quickly charge your batteries in a short time of 3 hours. Below is a list of other radio chargers available
a) WPLN4137 Charger Base Only
b) PMPN4173 Single unit charger
6. Motorola CP150 Radio Antennas
The Motorola CP150 uses both UHF and VHF antennas. Below is a list of UHF and VHF antennas available for CP150 radio:
a) VHF Antenna
I. NAD6502: It is a VHF whip antenna for the 146-174 MHz frequency band.
II. Stubby VHF Antennas (HAD9742/HAD9743): It is a 3.5-inch VHF stubby antenna for the CP150 Radio.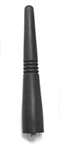 b) UHF Antenna
I. PMAE4003: It is a UHF stubby antenna for the 430-470 MHz frequency range.
II. Stubby UHF Heliflex Antenna, 438-470 (NAE6522): It is a 3.5-inch UHF (438-470 MHz), stubby antenna for CP150 Radio.
III. PMAE4016 UHF whip antenna for the 403-520 MHz range
7. Motorola CP150 Radio Headsets
A variety of radio headsets are available for Motorola CP150 Radio. The MAG One Lightweight Headset (PMLN4445) is one of the best headsets available for this radio. It allows you to communicate without using your hands providing you comfort and convenience. It comes with a boom microphone and an adjustable headband.
This is a trustworthy and economical solution for customers who are looking for a good deal.
a) Lightweight Headset (PMLN6538): It is a lightweight unit that does not burden you with its weight. It is adjustable and has got a headband style.
b) Lightweight Temple Transducer (PMLN5003): It allows you to receive audio via bone conduction technology.
c) Temple Transducer (PMLN5011): Comes with in-line push-to-talk and boom microphone. It is quite useful in commercial use
8. Motorola CP150 Radio Earpiece Replacement Parts
Motorola CP150 Radio Earpiece Replacement Parts can be used for replacing the worn out parts in your radio. The Clear Rubber Eartips (5080386B90) can be purchased in a pack of 25. These can be used to work with your surveillance kits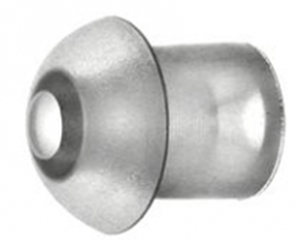 conveniently. By replacing your rubber ear tips on timely basis, you can ensure proper communication at all times.
This is the perfect replacement equipment for receiving optimum audio at all times. As the quality of communication is of paramount importance for most radio users, the earpiece replacement parts have become crucial for long time radio use.
Sources Used:
https://www.motorolasolutions.com/en_us/products/two-way-radios/analog-business-radios/discontinued/cp150.html#tabaccessories
http://www.radiotronics.co.uk/motorola-cp150