The PMLN5807A is a very simple easy wear earpiece that will provide little if any ear fatigue. The single wire earpiece PMLN5807 is known as a C Style due to it's shape.
Our Brand PMLN5807 comes with a Single Wire, Mini PTT, Clothing Clip and Swivel Speaker. The PMLN5807A is very easy to keep clean and worn with multiple users. Our Version PMLN5807A also comes with a one year warranty and is designed to meet or exceed OEM model.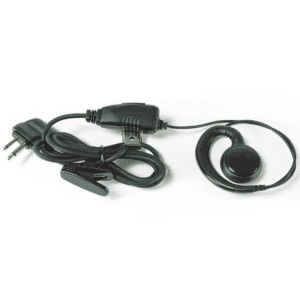 The cost savings we offer on our brand PMLN5807 allows the end user more purchasing power and not sacrifice quality. The PMLN5807 has a 2-prong connector that will work with all Motorola 2 prong radio accessory ports. Also, the PMLN5807A may work with other radio brands that has the same style accessory port.
For easy maintenance of the PMLN5807, use a light alcohol swabs or anti bacterial wipes. This will help keep the units cleaner and last longer